Carol Cory, CFP
Carol is an experienced financial planner who is dedicated to helping her clients attain their unique life goals and financial objectives. She has worked in the financial services industry since 1978 and began her career by specializing in the 403(b) market for non-profit organizations and public school systems.  She and her husband, Luis Fondevila, founded Surety Investment Services in 1982 as an investment and financial services firm to meet the needs of individuals from all walks of life.  Their daughter, Francesca, and Carol's sister, Joanna, also work with them in the firm. 
Carol graduated with honors with a Bachelor of Arts Degree in Mathematics from Georgia State University in 1970. She attained her Certified Financial Planner (CFP) designation in 1984.  As a Certified Financial Planner designee, Carol adheres to the highest ethical standards and abides by a strict code of professional conduct, known as the CFP Board's Code of Ethics and Professional Responsibility.
Carol is a licensed life insurance broker and a registered securities principal. She has served on the President's Advisory Board for her securities broker/dealer, PlanMember Securities Corporation, and has served on the Board of the Los Angeles Chapter of the Financial Planning Association. Carol has been a guest speaker for a number of organizations and has served on several financial planning roundtables at the Los Angeles Times Investment Strategies Conferences.  Carol has been named a 2012 Five Star Wealth Manager by Five Star Professional, an independent third-party research firm, as published in the Los Angeles Magazine.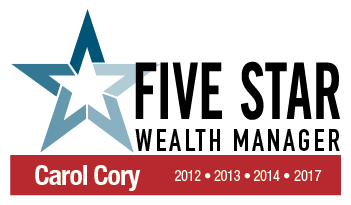 www.fivestarprofessional.com/awards/disclosure-information.php